---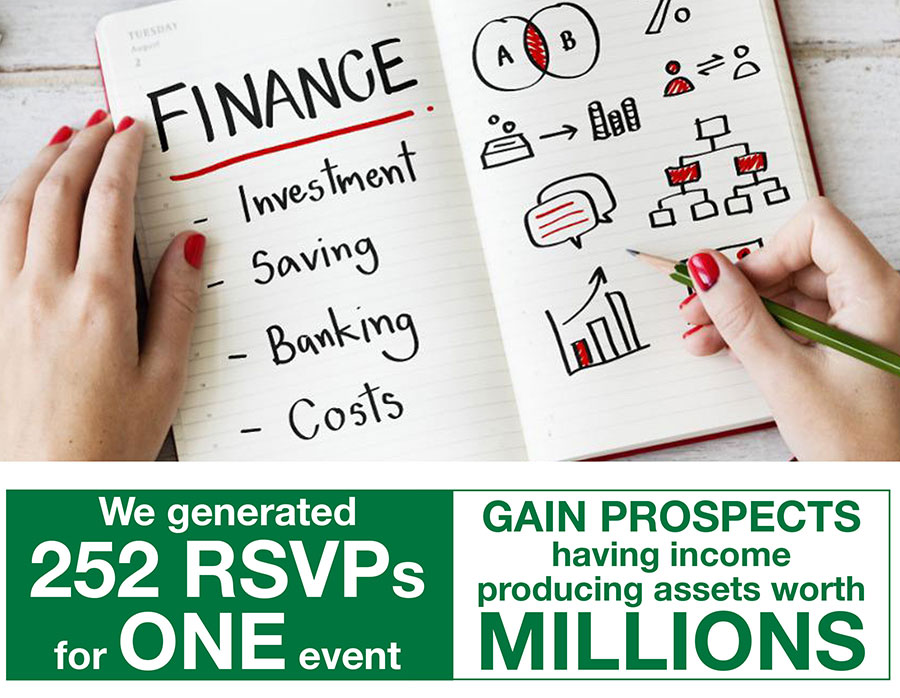 Is your marketing working for you or are you working for your marketing company?
This past August, MLI Marketing Solutions completed a Direct Mail & Digital Marketing campaign for a nationally ranked advisor  in Upper Marlboro, MD. The three base channels of the marketing approach for the purpose of filling his event with qualified prospects that we exactly his target demographic were as follows:

1) 20,000 5.5" x 8.5" postcards were printed and mailed
2) Three targeted email blasts to exact match emails of direct mail list and the body of the email blast mimicked the design of the printed cards and created a spike in traffic to the advisor's site. This traffics was identified and then matched for later retargeting.
3) Facebook campaign that ran 2 weeks prior to each of the four seminar dates, targeting exact data matches of the prospects from the mailing list as well as look-alike audiences that had the same demographics and qualifications. Facebook lead ads were composed of three static images as well as one video that the Advisor previously had produced.
Four seminars were held at two locations within the Maryland area. There was a total of 252 RSVPs from the combination of all three sources of marketing. The data criteria that was fine-tuned and analyzed prior to meet the requirement of all prospects having income producing assets between $100,000 and $1 million. To put in perspective, on average, we were able to generate and put prospects in front of our client that have a total net worth of well into tens of millions of dollars. Our client was extremely pleased and has already booked over $2 million in new business and is planning his next campaign with MLI.
Contact us today to get your next marketing opportunity underway.
(800) 741-6838
---